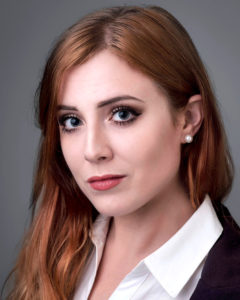 Taylor Parker has specialized expertise in incorporating intersectionality into Civil Rights Law compliance approaches. In particular, her research focuses on the intersection of disability and sexual violence. She presents her work on this topic annually at the National Conference on Law and Higher Education.
Parker graduated from the New College of Florida with an honor's bachelor degree in Psychology and Gender Studies. As a first year student, she became involved in a student-lead initiative that rewrote the campus Title IX policy. During her time as an undergraduate, she became a Florida State certified Sexual and Domestic Violence Advocate, and worked at the local rape crisis center for all four years of her study. She has incorporated these advocacy skills into her approach to legalistic compliance protocol.
She then attended and graduated from Stetson University College of Law with her Juris Doctor in May of 2017. During her time at Stetson, she occupied the positions of Center Fellow and Research Assistant at the Center for Excellence in Higher Education Law and Policy. During her time at the Center, Parker conducted research on a host of issues related to Title IX, disability law, educational record privacy law, and mandatory reporting, among other topics. She also served on a research task force examining what authority the Department of Education had to increase transparency of risk in study abroad programs. Additionally, she was teaching fellow to Professor Peter Lake for his Torts and Interviewing and Counseling classes.
Working as a legal clerk at a private Florida university, she developed a training manual for Advisors to students in Title IX proceedings which emphasized the intersection of Title IX and disability law in how Advisors interacted with both Complainant and Respondent students. She also helped to develop and implement a Campus Climate Survey based upon the best practices enumerated in the Campus Climate Survey Validation Study put out by the Whitehouse Task Force in 2015.
Later, she became the legal intern at SurvJustice, a national organization dedicated to representing Complainant students in Title IX proceedings at their institutions. There, she conducted legal research into a host of issues presented by the organization's clients, including a memorandum submitted to the Georgia legislature in opposition of HB 51.
Currently, she works as Compliance Officer and Deputy Title IX Coordinator at Ringling College of Art and Design. Her work has been published on the topics of Study Abroad and Human Trafficking, as well as the intersection of Title IX and disability law.