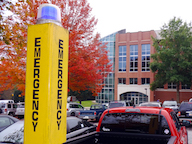 Our team brings a diverse perspective to the work of fostering safe learning environments, in K-12 as well as higher education, both in the United States, and abroad. We work with each client to learn their about their unique needs, the resources available to achieve goals, and collaborate to customize solutions.
While we don't limit ourselves to a "menu" of options, our team has expertise providing services in a wide array of subjects including the Jeanne Clery Act, Title IX, campus public safety operations, trauma-informed response, institutional policy development and creation, public policy, conducting assessments, training development and implementation. Specific focus areas also include alcohol and other drugs, campus public safety, emergency management, physical security, and sexual violence.
Please contact us by phone or at info@safecampuses.biz to learn more.